A Spring Guide To Exploring The London Borough Of Hackney
15 March 2022
Fashionably refitted loft apartments in former factories and eclectic bars buzzing under ageing railway bridges hint at Hackney's past as an industrial hub.
Now, the smokestacks and grey-laced brick word frame one of London's youngest, coolest neighbourhoods.  
In no season is the borough more enjoyable than in spring, laden as its expansive parks and scenic walking routes.
As flowers start to bloom alongside the ducks in Victoria Park's sprawling ponds, and the fresh breeze rushes being the runners tackling the lanes of London Fields, Hackney's edgy exterior gives way to a picturesque corner of contemporary London. 
This guide will take you through the borough's spring highlights: its cosiest pubs, quaintest markets, and seasonal street food favourites.
Wherever your spring is headed, you can celebrate the changing season in style here in Hackney
Scrumptious seasonal street food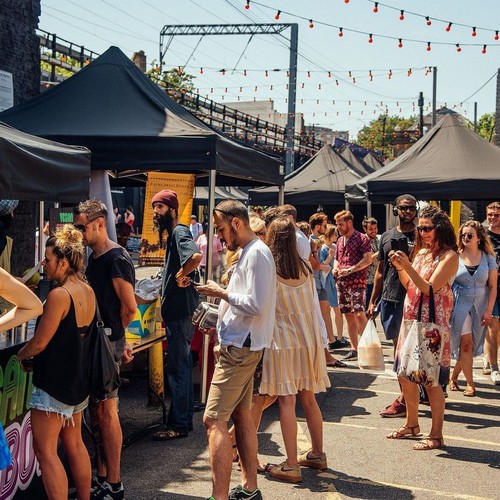 It's no secret that Hackney is home to some of the more notable street food in London.
Historically, a huge variety of cultures have found a home in the borough, and their representatives brought along comforting dishes from all over the globe. 
For some great selections, head straight to Bohemia Place Market, an ever-changing market that showcases the best of Hackney's local culinary talent.
Warm-up with a hearty oxtail stew or a spicy chana masala. You can also pick up a pint picked up from the borough's many local craft breweries at Hackney Church Brew Co.  
If you want to try something even more local, you can try your hand at brewing your own beer at Brew Club in Bohemia Place.
Throw in some extra spring flavours with the assistance of their on-hand experts and craft the perfect pick me up for a cold day.
Browse spring artisanal goods at Broadway Market

It's no surprise that the bustling Broadway Market attracts crowds from all over the city. The quaint Victorian lane is a local go-to for seasonal artisanal products.
Alternatively, you can pick up a coffee from Climpson and Sons and choose the perfect soundtrack to your Hackney trip from the stalls selling vintage vinyl records. 
Broadway Market is also the perfect spot to allow yourself an indulgence or a splurge, what with it being tricky to resist the aromas of fresh Italian breads or the mouth-watering array of cheeses.
Artisans also sell handcrafted jewellery and clothing, as well as upcycled thrift shop finds, ideal for visitors looking to take home a truly unique and fashionable souvenir. 
Ramble through Victoria Park
Despite being a city filled with tranquil green spaces, Vicky Park still ranks among London's greatest escapes.
On the brink of Hackney and Tower Hamlets, there are few better places to see the picturesque spring blossoms than here.
It frames expansive fields and quiet lanes filled with picnicking families and strolling couples. 
Pick out some picnic bits from one of the many shops, restaurants or cafes on Victoria Park Road and settle on the great swathes of open grass.
Stop off at Pavilion Cafe for a freshly brewed coffee and a seat overlooking squabbling gaggles of geese.
Shelter from the spring breeze under the Japanese pagoda, where leaves fill the air in lieu of the more traditional pinks of the blossom trees. 
The park also serves as a home for some of the best music festivals in the city, as well as a regular market.
Get hands-on with nature at Hackney City Farm
It's tough to feel less like a city dweller with petting pigs, feeding goats, and corralling chickens, but Hackney City Farm offers visitors a taste of the countryside right in the heart of East London.
As well as an opportunity to interact with the animals and learn about how they're raised, you can browse products made by the critters you just met in the on-site farm shop.
Be sure to take home some of the freshest produce and cutest autumnal crafts available in East London!
Slip behind this wall
One of Hackney's coolest bars is nestled away, hidden behind an unassuming entryway close to London Fields.
Behind This Wall offers cocktails and other drinks based entirely on your tastes. There's no menu.
Using the freshest and most natural ingredients available, you can rely on high-end autumnal flavours with every sip, designed for you personally by masters of the craft.
London Fields
If you ever feel yourself catching a chill in the autumn air, spend a few hours in London Fields.
Ever occupied by joggers, skaters, and cyclists, the park is also home to a wide selection of sports facilities, the famous, heated London Fields Lido, and even outdoor gym equipment. 
If you're not feeling quite so energetic, you can always dip into Pub on the Park and pick up a pint to carry while playing a low-pressure game of lawn bowls. 
Cosy up by the fire at The Chesham Arms
A local favourite tucked away on the edge of Hackney and Homerton, The Chesham Arms is a local favourite, a cosy spot to escape the cool spring air.
Choose from an extensive range of local and imported beers, grab a comforting pub dinner from the hearty menu, and take shelter from the impending season shift. 
If you're on the hunt for a slightly healthier alternative, The Spread Eagle is only around the corner and is the first-ever 100% vegan pub in London.
Check out their Sunday Roast menu to totally change your perspective on vegan comfort food. 
Spot street art on a stroll along the Canals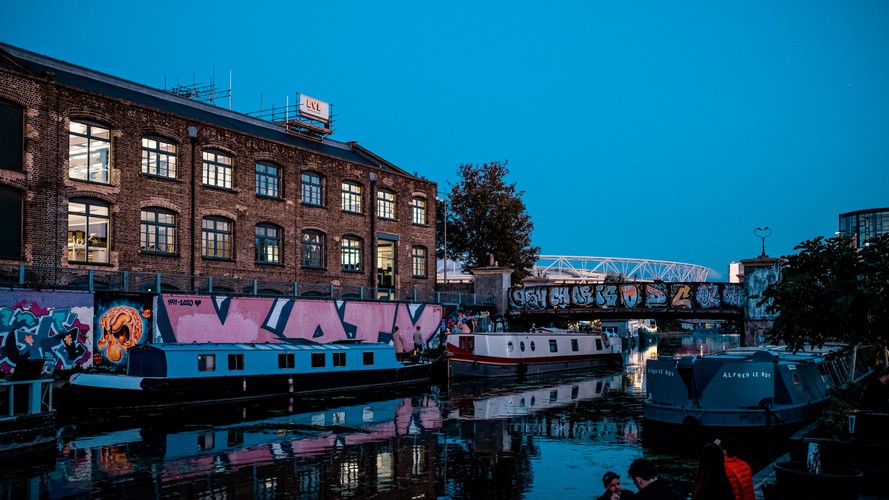 The explosive colours of Hackney Wick's street art spans along the canal, with the city's contemporary artists making its historic pathways their own.
Take a stroll from Victoria Park to Hackney Wick along the water to get the best view of the street art or take in the surroundings as you float and dine at Barge East.
Vintage shopping
If you're the kind of shopper who feels compelled to match their outfit to the seasonal, you will find no cuter autumn fits than at Hackney's vintage stores.
You can take to the town in an upcycled dress from Paper Dress Vintage, or just sport it to the bottomless brunch they offer in the bar above the shop.
Or else, grab yourself an extra warm layer from The Market Cartel and set out prepared for the season's brisk winds. 
Hackney is a fast-changing area
It's transformed from an industrial centre to an underprivileged area, to a favourite spot of young workers and fashionable businesses.
Take the time to enjoy the borough as it is now: a mesh of the old and the new, the trendy and the traditional. 
Beyond only the suggestions listed in this article, the changing seasons bring new and innovative opportunities for visitors every year.
A trip to Hackney is guaranteed to showcase the city in all its seasonal glory and leave you only wanting to learn more about the historic borough.