Sheffield: Spend A Long Weekend In The Steel City
28 April 2022
The activities in and surrounding Sheffield are endless. So, with just a short weekend to spare, it's best to have a plan about what you would like to do. 
Visiting Sheffield will mean a weekend packed full of multicultural food, entertainment, and learning about the deep history of the industrial areas in the "city of steel".
Friday
Breakfast: Marmadukes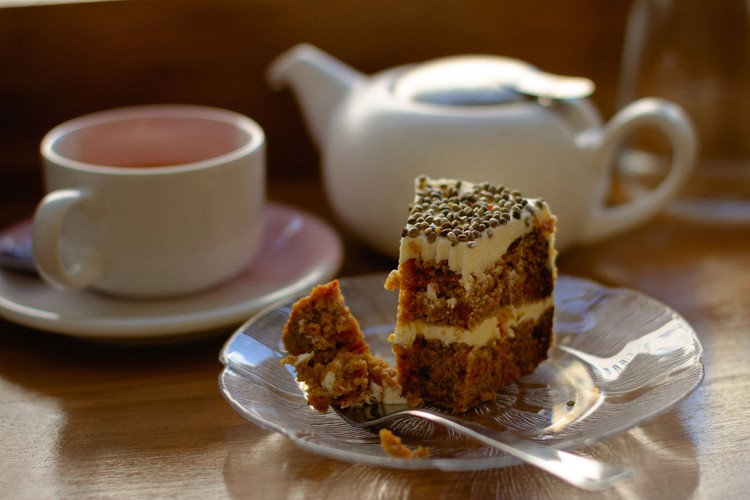 You'll find the café in three different places: Cambridge Street, Norfolk Row, and Ecclesall Road. We recommend the Norfolk Row as it's the ideal location to get the ball rolling. 
There's a delicious variety of non-dairy milks, gluten-free and vegan cakes, and hearty meals – even a kid's menu is on hand for the little ones to sample all the goodness.
They thrive in using natural ingredients to produce fresh food in their kitchens, perfect for some fuel before your first full day in Sheffield.
Morning: Victoria Quays 
Nearby to the city centre, you can stop by Victoria Quays, a large canal basin which heads up the Sheffield and Tinsley Canal which is more than 200 years old. 
It was built in the early 1800s as the terminus for the Sheffield Canal – plenty of walks around the area will keep you active and it's a chance to discover industrial buildings and warehouses that showcase the city's steep history. 
After its decline in work in the 1970s, the use of the canal became obsolete until becoming a new cosmopolitan hub for shops, pubs, and a marina in the 1990s.
Lunch: Hygge
Described as "Sheffield's little cosy corner", Hygge offers a variety of fresh sandwiches, sweet cakes, and steamy coffees.
Fancy doing a spot of people watching over a Danish salami sandwich or the Frikadeller pasta?
The café is open every day and the selection of sandwiches on the menu changes regularly – it's also very near to your next stop on the itinerary…
Afternoon: The National Videogame Museum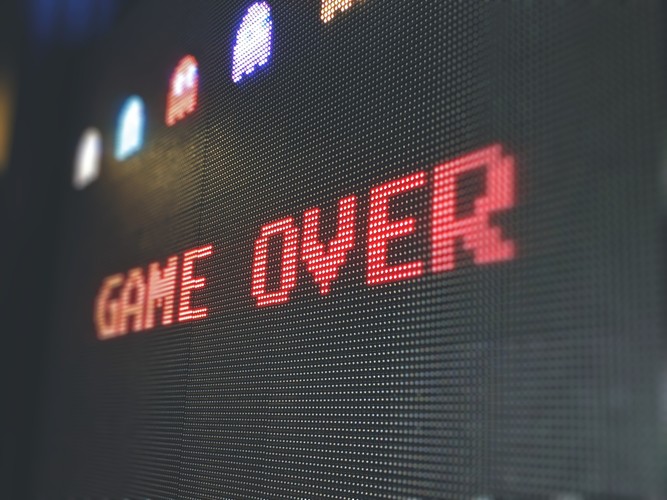 After first opening the museum in Nottingham in 2015, it was moved to Sheffield a few years later and reopened after the UK's second coronavirus lockdown in May 2021. 
The museum has lots of exhibitions and "bundles" (a collection of smaller exhibitions), including The Arcade, Sonic the Hedgehog and Made in Sheffield Bundle.
Spend your afternoon playing anything from a Commodore 64 to 14 separate versions of Donkey Kong. They even have "The Lab" where you can have a go at creating a game yourself on tools such as Twine and Scratch.
Dinner: Tsuki
Perhaps you're in the mood for something a little more cultural for dinner?
Enjoy some delicious Japanese food at Tsuki restaurant in the city centre – the eatery has an unlimited menu with over 150 different dishes to choose from.
You'll be greeted by the super friendly and will explain everything on your visit, including how to order via their tablet system. 
The food is also freshly made by the chefs, including sushi, gyozas, and flavoursome noodle bowls. 
All you'll have to do is sip on a refreshing Mai Tai or two as you await a truly scrumptious feast. 
Evening: A night at the theatre
There's nothing like taking in a live show in one of Sheffield's many stunning theatres after you've indulged in some heavenly food.
You'll find it a challenge to choose from the shows at The Crucible, Studio and Lyceum Theatre. 
So, will it be a night of hilarious stand-up comedy, a feel-good musical, or a 
Saturday - Kelham Island
To really enjoy the industrial "aesthetic" of Sheffield, Kelham Island is the best place to go.
There's plenty to do and see among the beautiful buildings, plus an endless array of restaurants and eateries to choose from.
Breakfast: The Depot Bakery
Begin your day at this picturesque eatery in the Kelham Arcade – they prepare a variety of delicious meals, artisan coffees, and sweet treats, with their brunch menu available daily from 9am until 3pm. 
You'll find options for different diets including vegan and gluten-free, so there are no issues with finding something yummy to eat. 
Best of all: their home baked sourdough bread is available to buy by the loaf to snack on later.
We also recommend picking up some vegan salted caramel cookies and peanut butter slices as a little pick-me-up before your next stop. 
Morning: Kelham Island Museum
A visit here is a great way to learn about the history behind the industrial area of Sheffield – the museum opened in the early 1980s and showcases objects and pictures that retell the story of the steel city.
This museum tells you the story of Sheffield from the light trades to mass production and how steel helped forge both this city and the rest of the world.
Through the interactive galleries, you will learn what it is like to live and work in Sheffield during the industrial revolution, Victorian era, and world wars. 
Lunch: The Grind Café
You can find The Grind Café nearby for a delicious lunch. It's open every day from 8am to 5.30pm, plus in the evenings on Thursdays, Fridays and Saturdays.
Pull up a pew debate whether the cauliflower tagine or the Sri Lankan tofu curry is the best way to go – we reckon a glass of the Azulejo rosé would nicely compliment both choices. 
Afternoon: Foundry Climbing Centre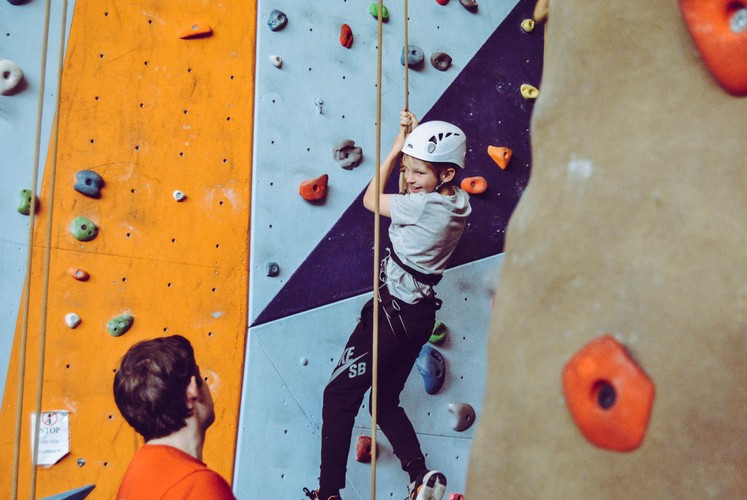 A slight change of direction for the thrill-seekers!
If you're wanting some fun, physical activity over the weekend, we think learning how to rock climb at the Foundry Climbing Centre is the way to satisfy your adventurous streak. 
It costs £20 per person and under 18s costs £15. All sessions are 2 hours long with a maximum of six people in a booking (at least one adult is required).
No experience? No problem! The qualified instructors will assist you with everything involved to make sure that you have a safe and fun time while you climb.
It's open for all ages and abilities – you can even take part in a one-on-one coaching session if you fancy taking up rock climbing as your newfound hobby. 
Dinner: Cutlery Works
The best way to finish off your day at Kelham Island is by eating at the Cutlery Works food hall.
This isn't just a regular restaurant; this food court-style eatery has open seating but features a wide variety of food stalls and bars. 
So, what will it be? Fancy a pint of craft beer at BoozeHound before a substantial portion of channa masala at MA-ba? Or maybe you'd prefer some Mexican fried chicken tacos from Pellizco? 
You can also indulge in a bottomless brunch here – an hour-and-a-half of limitless prosecco, beer, and cocktails with food from any of the 14 stalls. 
It's open until 11pm and perfect for everyone to find something to their taste.
Sunday
Today's the last day of your long weekend in Sheffield – better make it something to remember!
Breakfast: Vittles Café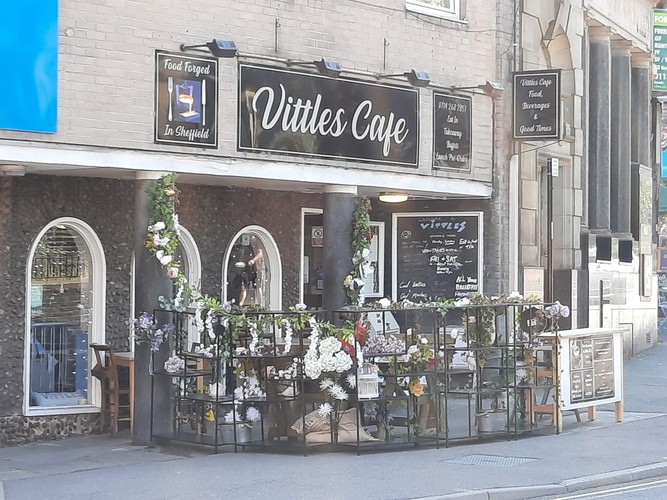 This family-run, independent café in the Broomhill area claims to be the oldest in Sheffield – they also use local produce to support local businesses. 
You'll find their menu to be large and varied with vegan, veggie, and gluten-free options – vegan pancakes are one of their highlights.
They also specialise in making the French pastry, Beignets, described by the café as "fluffy pillows of deliciousness" served warm and covered in icing sugar.
Morning: Thrifting and charity shop hunting along Ecclesall Road 
A little retail therapy in order? Enjoy the many charity stores and thrift shops along the street which locals refer to as "Eccy Road".
Here you can find lesser-known upmarket thrift stores like White Rose 9 or focus on the more traditional charity shops such as the British Heart Foundation, St Luke's Vintage Store, or Oxfam all along the same strip. 
You could even pop over to Endcliffe park just at the end of the street for a sit-down and admire the river as a break from all the shopping.
Lunch: Nam Song
This Vietnamese all-day-all-night coffee shop is the perfect place to enjoy a fresh and tasty lunch.
The owners of the chain wanted to recreate the culture of Vietnam in the UK after visiting the country during their gap year. 
You can enjoy noodle soups, Bahn Mi baguettes, and their famous Phin filter coffees – we'd recommend trying them with condensed milk for a bit of added flavour. 
There are two restaurants in Broomhill and Sharrow Vale, and they also support The Kianh Foundation, a charity for disabled children in Vietnam.
Afternoon: Sheffield Botanical Gardens
Enjoy a relaxing afternoon in one of the most beautiful and historical green spaces in Sheffield. 
The Gardens opened in the summer of 1836 by Thomas Dunn, the then Master Cutler, after three years petitioning and building the public space for recreation and self-education for the locals. 
You'll uncover 19 acres of breathtaking grounds that were designed as a traditional layout of the Victorian Rose garden.
You'll also find a large array of different flora and fauna, trees, and plenty of benches to enjoy the view.
They even have a restaurant and tea rooms on the grounds which would be a lovely stop for an afternoon tea.
Dinner: Nottingham House  
One of the locals' favourites, this pub is famous for its Nottingham pies. 
This is the perfect pub grub, served with mushy peas and either mashed potato or chips on the side. 
They have a variety of flavours with vegetarian and vegan options. The pub has a warm and cosy atmosphere, with outside seating and open 12am until midnight on most days (until 1pm on Fridays and Saturdays).
With this itinerary, your weekend in Sheffield will certainly not be dull.
Enjoy the greenery, history, and fantastic food that this wonderful northern gem has to offer.