Paddington To Camden: An Adventure Along London's Breathtaking Waterways
01 June 2022
Think of Paddington and you'll likely picture either a busy train station or a cute little bear. But this dynamic area of London has rapidly become known for its buzzing canal-side vibe – it's also the start of a wonderful waterside walk to King's Cross.
When you arrive at Paddington, it isn't immediately obvious where the canal is. But, once you find it, at your feet will be a waterway that connects to a network of other canals that can lead you all the way to Birmingham.
Today, though, we'll take a diverse journey of just over four miles. Perfect for a scenic stroll in the capital.
Begin at the Basin
Where the canal ends (or begins) is Paddington Basin, possibly named because of its bowl shape. You'll spot some alluring eateries and cafés around you for a little pick-me-up before you make tracks.
If you're feeling super adventurous, why not try a paddleboard lesson? But if you'd rather take the weight off, you can hire an electric boat.
If you want to get on the water in an even more sedate manner, then there's a floating park in which to sit and peer into the depths.
You won't be able to miss Darcie & May Green – this restaurant is on a barge covered in vibrant patterns, and the Aussie-inspired menu and rooftop seating are just as exciting!
It's also on the way to our next stop.
From Italy to Africa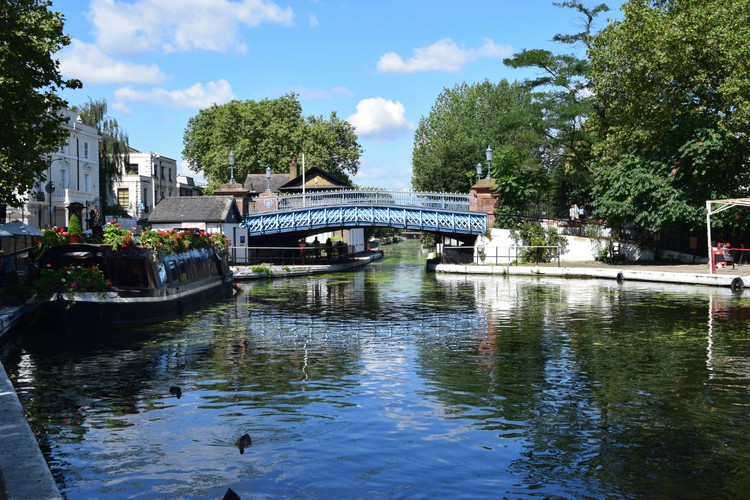 Just beyond the shiny skyscrapers of Paddington is Little Venice, named (by either the poets Robert Browning or Lord Byron) after the plethora of canals.
Well, maybe not a plethora, but it's the meeting point of the Paddington Arm, Grand Union, and Regent's Canal.
It's also a stunning part of London, featuring Regency-style buildings, and, for those who prefer to travel by water, regular ferries to Camden Lock.
We're now alongside Regent's Canal, which ends at the Thames in Limehouse. There's a large tunnel in the way which can only be traversed by boat, and so after a temporary above-ground diversion, we'll re-join close to Regent's Park.
If you thought Little Venice was grand, then you'll be blown away by the mansions along this stretch.
Talking of blown away, you're about to go under Blow-Up Bridge, named after an incident where a barge carrying gunpowder exploded and destroyed the bridge in the 1870s.
In the pillars of the replacement bridge, you'll see grooves in the metal – evidence of barge ropes which wore against bridges and tunnels.
Hopefully the sun will make an appearance when you're on this walk, as well as the hyena. Don't worry, they're safely housed in London Zoo and can often be spotted from the towpath.
Come back in the summer and the Grade II listed net-covered structure to your left will have been transformed into a space where visitors can get up close with monkeys, deer, and parrots, and maybe those walking by will get a glimpse too.
We highly recommend a visit to the zoo. But as we're just passing by today, we get to see some of this wonderful wildlife for free.
Unlikely neighbours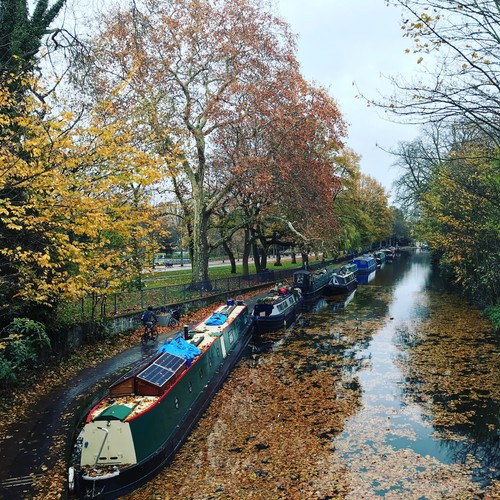 A neighbourhood of idyllic surroundings, Primrose Hill makes for an interesting diversion.
Turn left after the zoo and enter the park to scale the hill – only 64 metres above sea level, but high enough to get superb views of London.
Instead of returning the way you came, continue down the other side and stroll along Primrose Hill high street (aka Regent's Park Road).
We suggest you dip into Chalcot Crescent, where the Paddington movies were filmed, and along past Chalcot Square with its oh-so-pretty pastel-coloured houses.
You can re-join the canal by walking along adjacent Gloucester Avenue. Soon after, we get to Camden Market.
Whereas Primrose Hill is peaceful and prim, Camden Market is loud and unruly. You'll first come to an area bursting with street food stalls.
Grab a bite to eat then continue into the maze-like Stables Market. Barge-towing horses were once lived here; now it's brimming with tiny shops selling clothes and sweet trinkets.
Once you've reached the end of Stables Market, loop back and see if you can find the Amy Winehouse statue.
This legendary singer was one of many musicians who called Camden home. There are still many TV, artist, and music studios to be found here, even though the area has been dramatically transformed over the years.
One recent development is Hawley Wharf. Where once there were market stalls now stands a huge multi-storey building containing shops and restaurants.
Hawley Wharf takes us back to the canal again. See the building over the water, with the egg cup shapes on the roof? That's the MTV Europe studios, which once hosted a breakfast TV show (hence the egg cups).
Where the past meets the future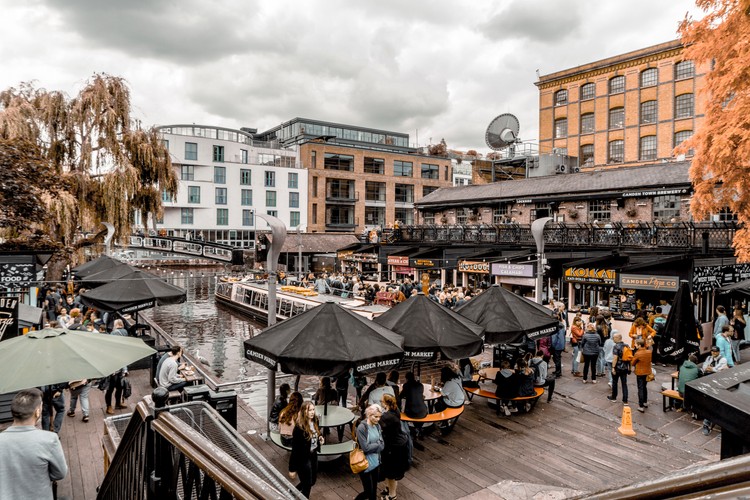 Along the short stretch of canal by Camden Market, three Victorian locks lower or raise boats to a combined height of 7.2 metres.
As you continue towards King's Cross (about one mile away now), you'll pass stone ramps descending into the water.
This link to the past contrasts strongly with the series of new developments close to King's Cross. In the next few years yet more luxurious apartments will be built, as well as shops, cafes, and even laboratories.
Currently there's a building literally called The Ugly Brown Building, where, from your vantage point across the water, you can see into fashion brand Ted Baker's offices and studios.
We're nearly there! Above you rumble trains departing St Pancras for Yorkshire, or France, or Belgium, or the Netherlands.
On the other side of this railway bridge, you'll see how gasholders and 150-year-old brick buildings have been transformed into parks, shops, and restaurants.
There are pathways lined with planters where grasses sway, and which lead either across a bridge to the wildlife of Camley Park, or on to our final stop.
Granary Square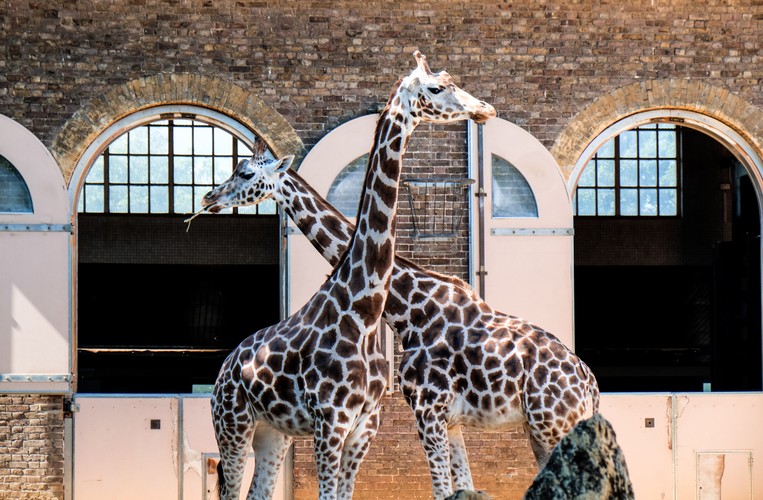 This picturesque square also embraces its historical past. Fountains mark where boats once pulled up to a warehouse, where you'll now find the University of Arts London.
A stepped area leads down to the canal; if you're here in summer, you might catch a free outdoor cinema showing.
In fact, there always seem to be free events in this exciting public space, including theatre performances, Christmas carols, and architecture tours.
We recommend you come here hungry, as Granary Square hosts one of Dishoom's Bombay-inspired restaurants, as well as the award-winning Cut + Grind.
We're now at journey's end, but if you're keen to continue then the towpath leads all the way to the Thames, or you can take a Hidden Depths Canal Cruise east to City Road Basin.
Even in recent times, these canals have seen enormous changes in London. But there are still many more to come.
Take this walk again in a few years' time and Paddington, London Zoo, Camden, St Pancras, and King's Cross will once again look quite different.
With the steady flow of the canal to the Thames comes the steady development of the areas it passes through.